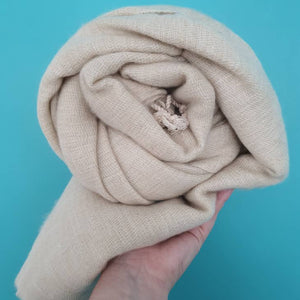 Cool Trade Winds
Yak Shawl - Winter White
Regular price
$26.00
$0.00
Unit price
per
These best selling Nepalese shawls are fluffed to imitate the yak, which gives them the name "yak shawls". They are very warm and extremely soft, perfect for those allergic to wool, plus non shedding so the fluff does not stick to clothes. A cozy and fashionable scarf.
Dimensions: 164 x 84cm (not including tassels)
Material: Acrylic, Cotton and Polyester
Handloomed by a social welfare factory in Nepal.
• Made in Nepal
• Weight: 299.4 g (10.6 oz)
• Product Materials: Vegan
• Production: Ethically sourced and fair trade

---