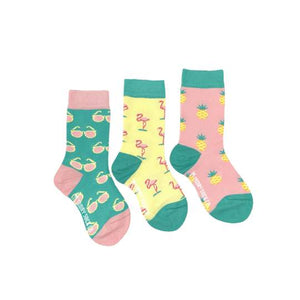 Friday Sock Co.
Kid's Flamingo, Pineapple & Sunglass Socks
Regular price
$13.00
$0.00
Unit price
per
Friday Kid Socks come three to a pair! That's right folks. Three super fun mismatched matching socks! So... if you lose one, no sweat. If you grow another foot, you're in luck. Three socks equal one pair of awesomeness. 
Pining for a flamingo? Grab your glasses and let's go with Kid's Flamingos, Pineapples, and Sunglasses Mismatched Socks!
Sizing
Available in X-Small, Small, Medium, and Large
X-Small fits approximate ages 1-2 | Infant Shoe Size 3 - 4.5 
Small fits approximate ages 2 - 4 | Shoe Size 5 - 9 
Medium fits approximate ages 5 - 7 | Shoe Size 10 - 2 
Large fits approximate ages 8 - 12 | Shoe Size 3 - 6
Contents
85% Egyptian Combed Cotton 
12% Nylon 
3% Spandex
Features

Designed in Canada   
Made in ITALY 
---