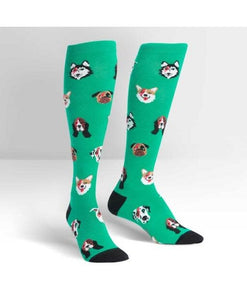 Sock It To Me
Dogs of Rock Knee High Socks
Regular price
$7.00
Sale price
$13.00
Unit price
per
Some of these dogs may not look that serious, but they seriously rock! Paying homage to rockstars of the past and their musical talent, these dogs are ready to bark out some classic rock!
54% Cotton, 44% Polyester, 2% Spandex. Made in S. Korea.
Our threads are certified by OEKO-TEX® Standard 100, which means we leave out harmful chemicals to keep your skin safe and happy.
Approximately fits women's shoe size 5-10.
Fiber Content
Women's 54% cotton / 44% polyester / 2% spandex
---